THE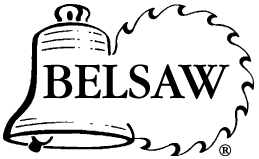 COMPANY
356 Martin Ave. - Santa Clare, CA 95050
Call M-F 9:00am to 3:00pm PT
1-800-468-4449 Fax 1-408-453-5515
What's new at Belsaw

Updated Aug 16, 2016

We have posted some of the Manuals for download. Click HERE for the list.
Visit The Belsaw Company Internet Store to Order from the Molding Pattern Knives Guide (Vol. XII) with Visa, MC, Discovery or AMEX through our secure third party server. Once there, search for the part number of the knife or accessory, then add it to your cart & return for more products.
The Molding Pattern Knives Guide is available as a PDF download document. Click HERE to download a copy of the complete Guide or any individual pages.
I have put up a NEW MESSAGE BOARD . You can register and log on and I can block Users by name or IP.. Please, no SPAM as I will delete it, and block you from future postings.
We have some parts for the Model 804/684 8" Planer/Molder/Jointer. Call for availability.
If you have a Model 455 Portable 6" planer, the Foley-United Company may have the knife set.. They may be contacted at 1-800-225-9810.
Check "PARTS & SERVICE" for parts lists and diagrams for the 804/684, 905, 910/9103 & 985 planer/molder.
SPECS, PARTS LISTS, DIAGRAMS & MANUALS
If you have an old SEAR'S Craftsman ® planer, check here for the Belsaw version Model number.
For phone numbers of the old (pre 1991) "FOLEY-BELSAW" company, check here.
Let us hear from you. Please use our RESPONSE FORM for comments or requests.
LINKS : Use your browser "BACK" button to return to this page.
©1998-2013 The Belsaw Company; All rights reserved. Updated: February 10 , 2017